------------------------------------------------------------------------------------------------
P A R T  4
The Second Step
------------------------------------------------------------------------------------------------
      ➜      Objective : Talk to Amber about Mr. Faraize's lost item, just in case...
Mr. Faraize lost his stamp that allows you to pass on to the next step. The last person that passed through was Amber, so you need to go ask her about the stamp, just in case...
You need to have talked to Iris to talk to Amber
Once you have her in front of you, she will admit that she took the stamp but that she left it in the forest. You will need to return and find it if you want to move on to the next step.
      ➜      Objective: Find the stamp hidden in the forest
There are two ways to find the stamp :
    -     At the food of a tree, in the area near the rocks.
    -     From Iris who already found it.
Once you have the stamp you need to give it to Mr. Faraize, who is at the beginning of the second step. You can then start the hunt for the objects!
      ➜      Objective: Find all the objects on the list and return to see Mr. Faraize.
The second step is a treasure hunt. You need to find several items:
    -     an object created by man
    -     something shiny
    -     a leaf as big as a hand
    -     an inhabitant of the forest (insects don't count)
    -     a print
    -     an insect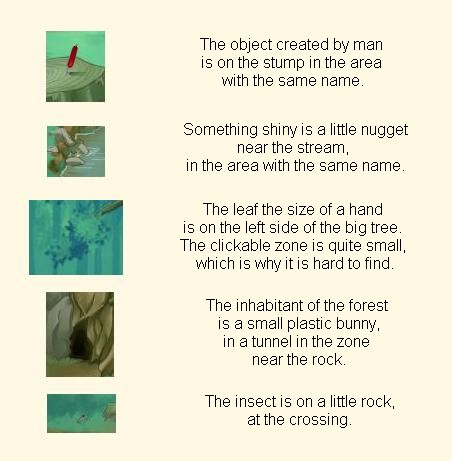 The print is found in the big tree, after a dialogue with your partner. They will give you hints about the areas where each object can be found during this part. Once you have found all the objects, you can return to see Mr. Faraize to go on to the third and final step.
For all the messages concerning Mr Faraize who couldn't be found, for the stamp or the end of the second step, well, it's not a bug, and here is a little hint to help you: head towards the stream and then the beginning of each step. You will then find your favorite teacher!